External Penile Prosthesis for Prostate Cancer and Spinal Cord Patients
Erectile Aid – Alternative to Penile Implant to Restore Intimacy When Function is Lost to Injury or Physical Condition
What Makes NonMedErect Different? - It is a Prosthesis Worn Over the Genitals with No Dependency on Physical Condition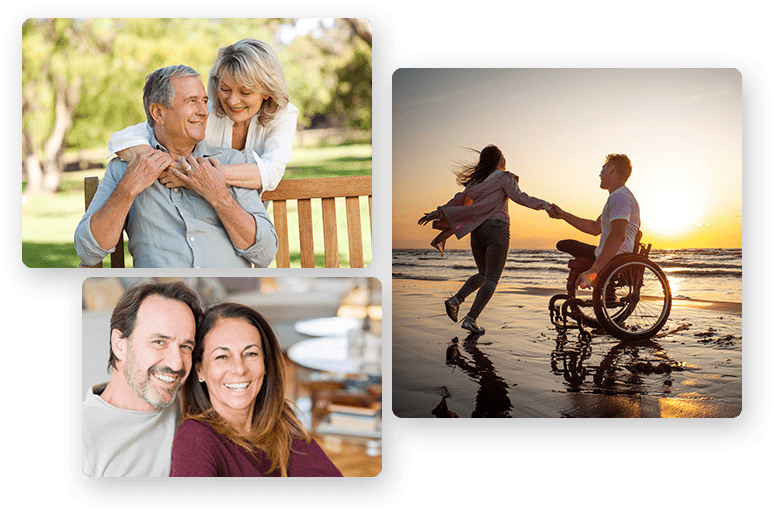 Benefits of External Prosthesis
Prostate Cancer treatment and Spinal Cord injuries can lead to erectile dysfunction. Both conditions can have a devastating impact on sexual function and prevent penetrative sexual intercourse. This new Patented Prosthesis restores the physical penis erection making male performance possible and provides a pleasurable experience for the partner. Regaining partial function through a prosthesis can restore sexual intimacy for couples impacted by both of these conditions. Prostate Cancer patients can use the prosthesis during penile rehabilitation, following treatment, until normal penile function is regained.
Meet NonMedErect and Take Control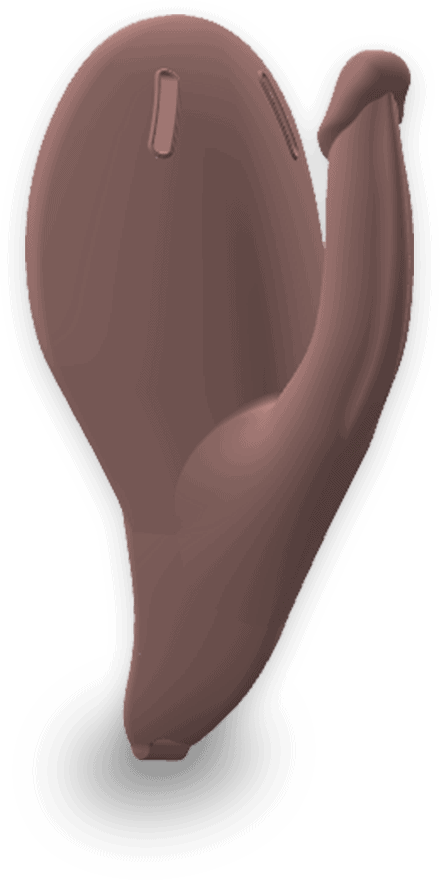 BRAND-NEW Patented Product
NonMedErect allows your partner to experience orgasm in a natural way. Orgasm may be possible for the partner wearing the device through pressure points allowing synchronized arousal. The use of external prosthetics for managing erectile dysfunction is a novel approach for couples seeking alternatives to medical procedures. NonMedErect offers a non-surgical method for restoring physical intercourse. The prosthesis mimics anatomical functions without reliance on the partner wearing the device. Simply wear the prosthesis for intercourse and remove afterwards.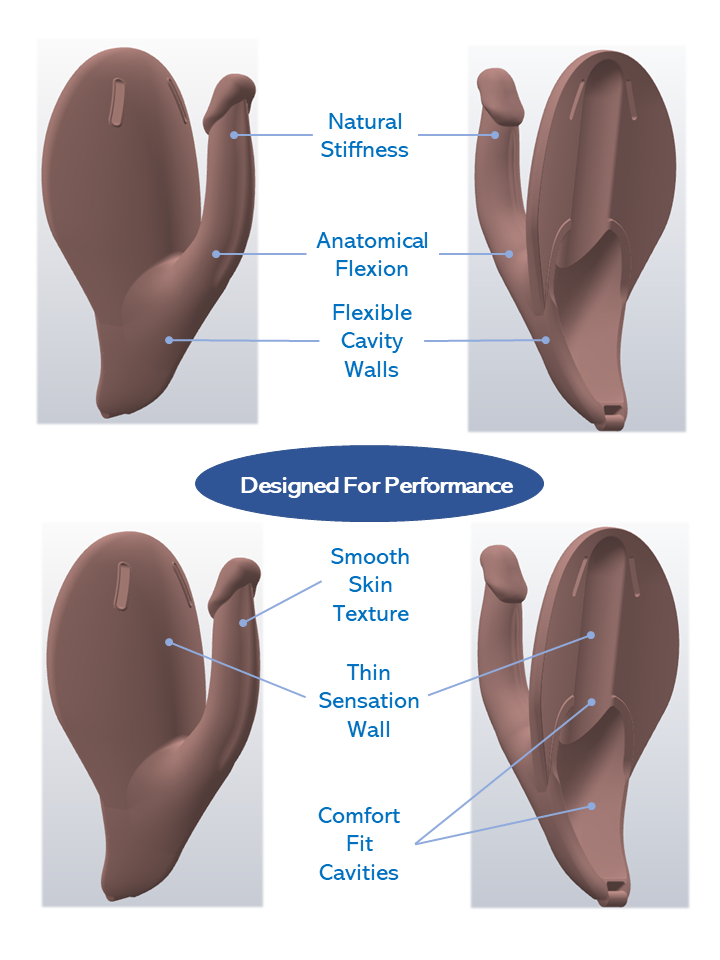 External dimensions, weight, size, and visual appearance.
This new device is constructed to replicate form, fit, and function for an erect penis. A single part design that incorporates an important suspensory ligament function.
Ability to attach to the body and become an external feature without discomfort while flexing with each body movement.
A simple three-point harness attaches the device to the body. Imagine no drugs, no injections, no pumps, no worries about performance and Full Pleasure for your companion.
Performs as if it was part of the body and makes successful penetrative sex possible again.
For men that have suffered genital injury or deformity, this product may be the only effective non-medical device to restore a healthy penetrative sexual experience for their partner.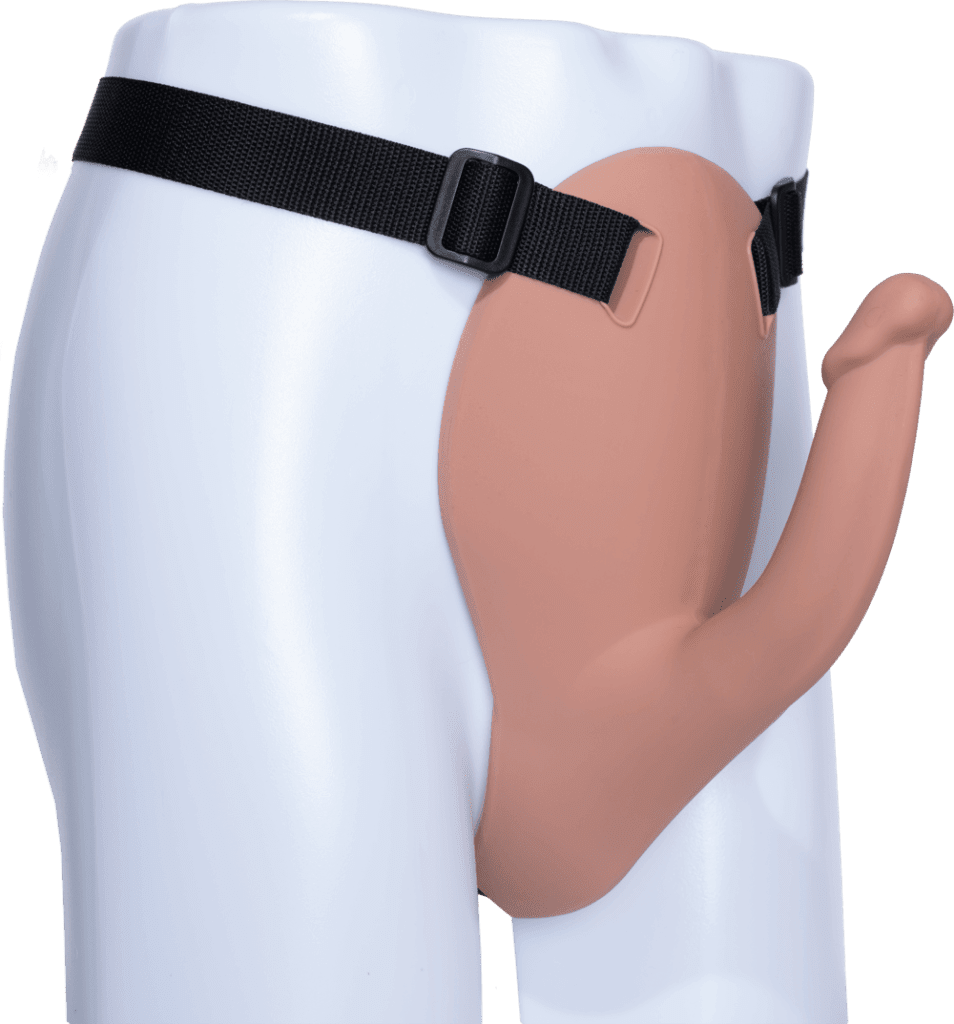 Straps fit comfortably around waist with secure fit to body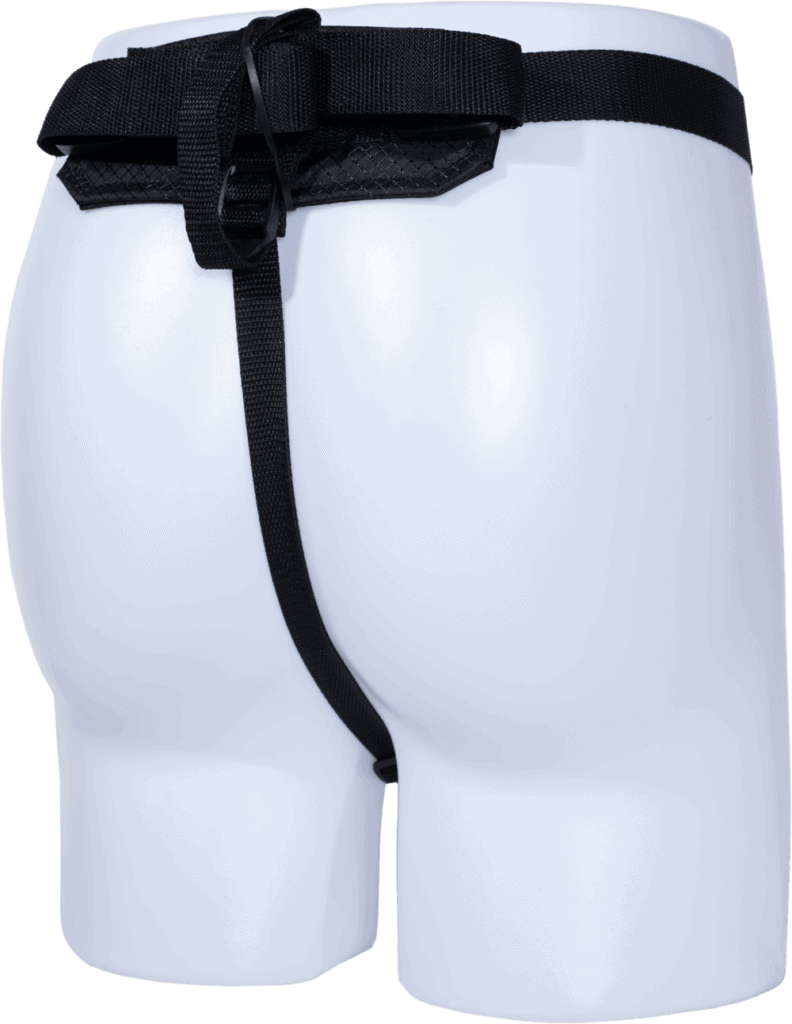 Strap adjustment in back. Cut straps to length (Uncut in Illustration)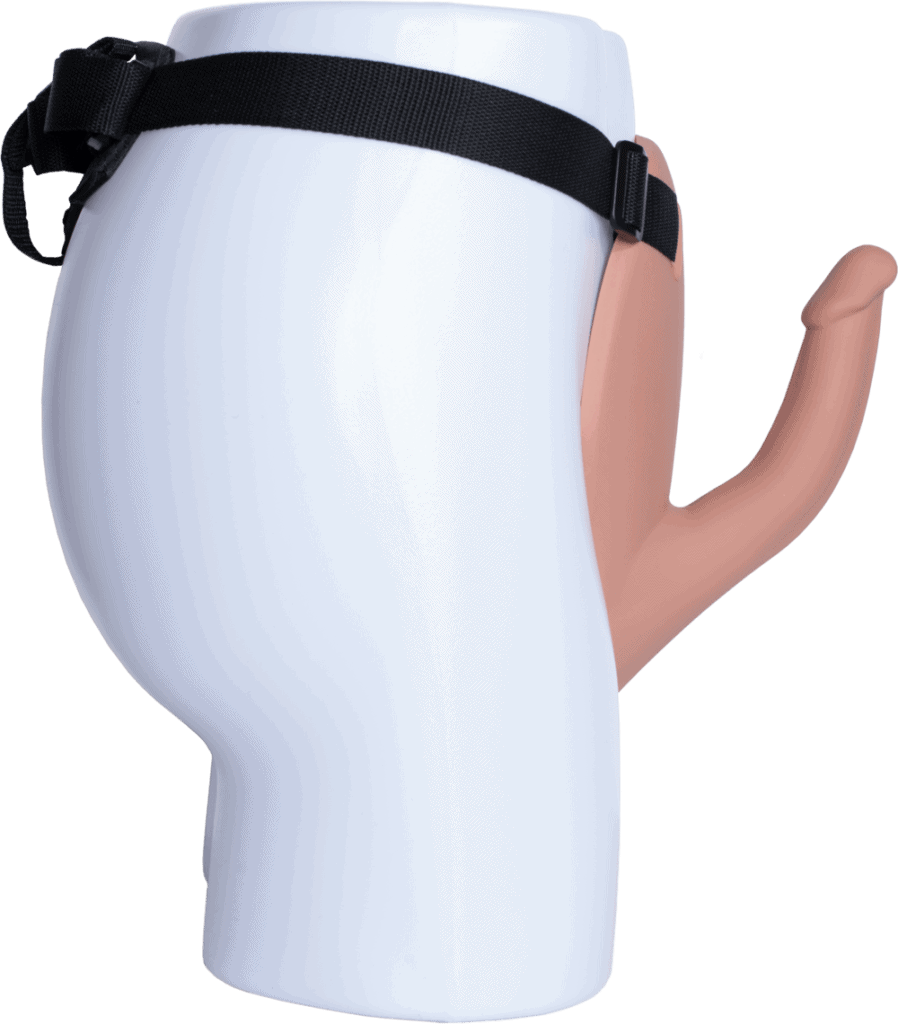 Conforms to body shape. Secure fit and flexible for all positions without restrictions.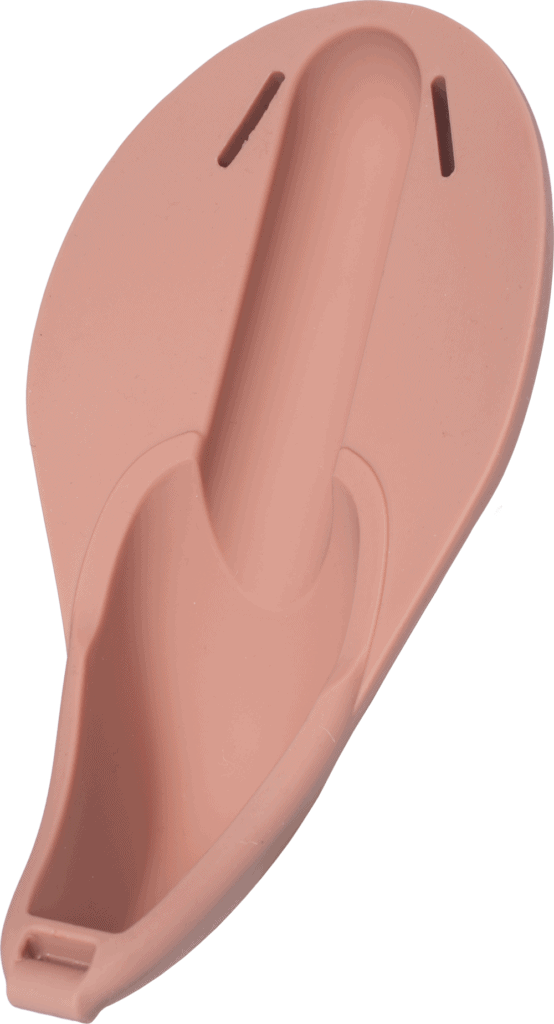 Inner cavity shape protects wearer genitals. Flexible design allows pressure for arousal in upper cavity.
Before answering some commonly asked questions, there are a couple of important points to mention.
What are the prominent design features of this product?
The NonMedErect design incorporates a soft silicone base that replicates the abdomen while providing a supportive base for the realistic erect penis. A key feature of this product is the replication of the male suspensory ligament supporting the erect penis in both natural degrees of motion and restricted movement of a natural erection. The inner cavity of the base allows room for male genitals and provides protection from the imposing pressure of the female public bone. The penis functional length measured from the base is 6.5 inches (16.51cm) and diameter is 1.25 in. (3.18cm). These measurements represent anatomical data for the 75% percentile male population. In simple terms, greater than average male genital measurements (50% percentile, mean average)
A 3-point strap harness is used to secure the device to the body maximizing exposed skin surface area. Made of 100% premium platinum cured silicone. Comfortably worn with no restrictions for body position during intercourse.
NonMedErect is made from certified Skin Safe material. Color tone is medium flesh as it appears on the webpage. Surface has micro dermal texturing to replicate skin smoothness.
I am Rather Endowed, Will this product Fit Comfortably?
The First Generation of this product aims to serve an above average user population (75th percentile population). The lower inner cavity is designed slightly larger than the average oval shaped testicle size of 4 x 3 x 2 centimeters (cm) or 1.57 x 1.18 x 0.78 inches (in). The upper inner cavity will accommodate an erect penis 17.78 cm or 7.0 in. in length. An erect penis larger than 7.0 in. will conform to the inner cavity to a degree before causing discomfort. Product demand will guide the next generation of this product and sizing options. This product will attempt to accommodate a larger population of Users; however, the male genitalia varies widely in size to a degree that the entire population may not be accommodated with this product.
What took so long for this type of product?
E.D. is a condition most men do not want to discuss and therefore remains a "hidden" condition. E.D. is the most common sexual disorder among men and impacts over 30 Million in the U.S. with estimates that E.D. effects over 300 Million men world-wide. However, only a limited number of non-medical mechanical devices have been introduced to the market over the last decade. Typically, a patient-initiated search is needed to find these products. Mechanical devices do not get the same public attention as medication and performance supplements to treat/manage E.D.
There are currently no known Prosthetics Companies developing externally worn genital prosthesis. Most provide custom upper and lower extremity prosthetic arms and legs.
See our About Us Page for more about our development journey.
Will insurance pay for NonMedErect?
Generally, No. Some self-funded employer insurance health plans may allow for coverage for sexual wellness products. For those 65 and older, Medicare has ended coverage for devices such as vacuum pumps for treating E.D. Medicare, Part D, drug formularies do not include E.D. medications. This product is extremely cost effective in comparison to traditional E.D. treatments, whether insurance coverage exists or not.
Your privacy protected. Contact information only used to provide information to help with understanding product features.
If we were unable to answer all your questions in the FAQ Section, feel free to send us an email or give us a call and we will promptly address your questions in a courteous and professional manner.